06/29/2022 05:26:45 AM
International Yoga Day (21.06.2022) - Grade I and II: Children did mass Yoga and meditation using their colourful yoga mat on the lawn and they enjoyed sun kissing.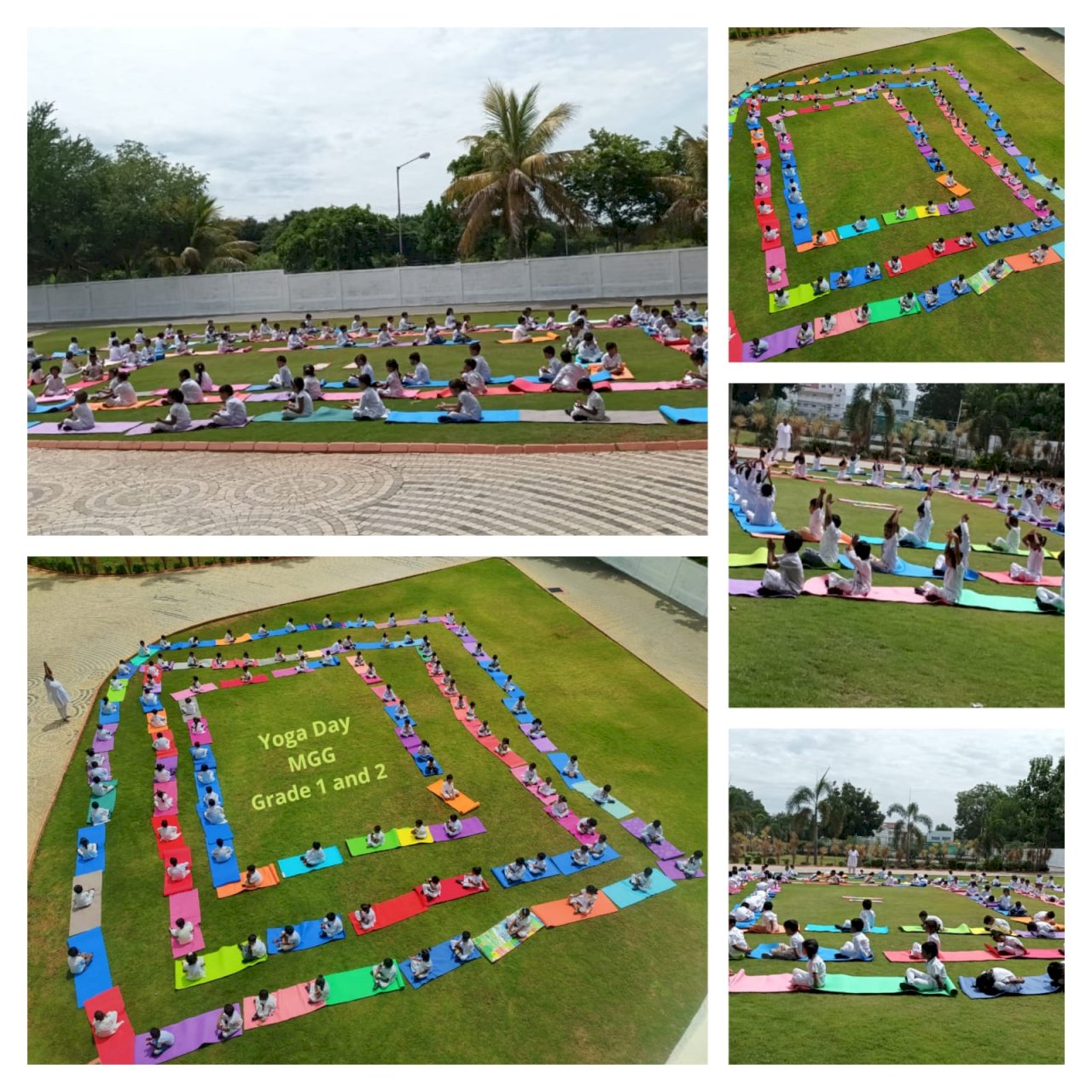 06/28/2022 03:57:53 PM
Dear Parents, "Movement is the song of the body," says Vanda Scaravelli. This became a fact with today's mass drill of Grade III, IV and V. Thank you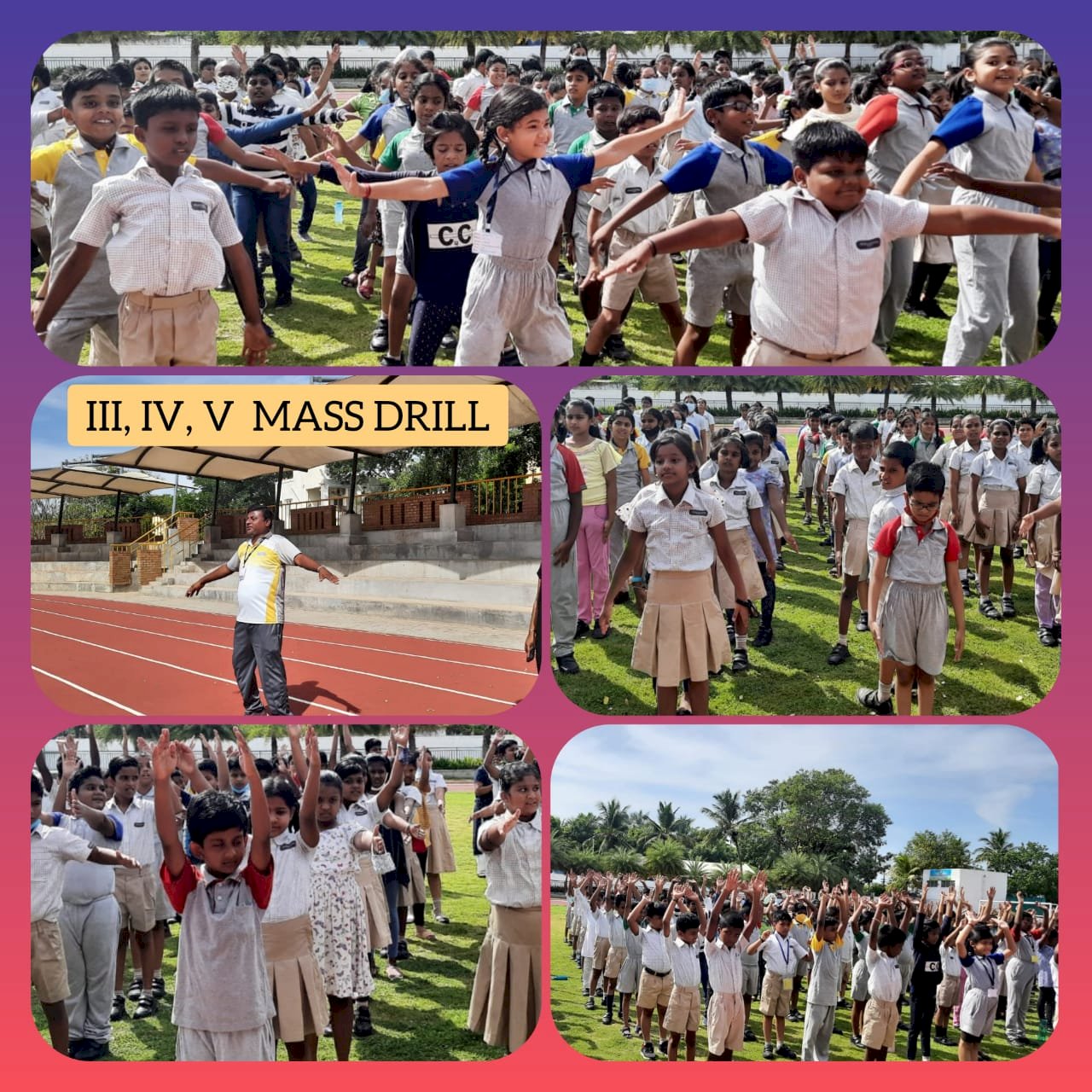 06/27/2022 10:32:35 AM
Glimpses of Grade 1 and 2 during Environment Day: Children were taken for a nature walk around our campus and they were taught how to Love, Care and Respect our Mother Nature. Kids collected dried flowers, leaves and sticks. They reused the material like a natural headdress. The kids loved it and were very proud as a peacock to wear it on their heads.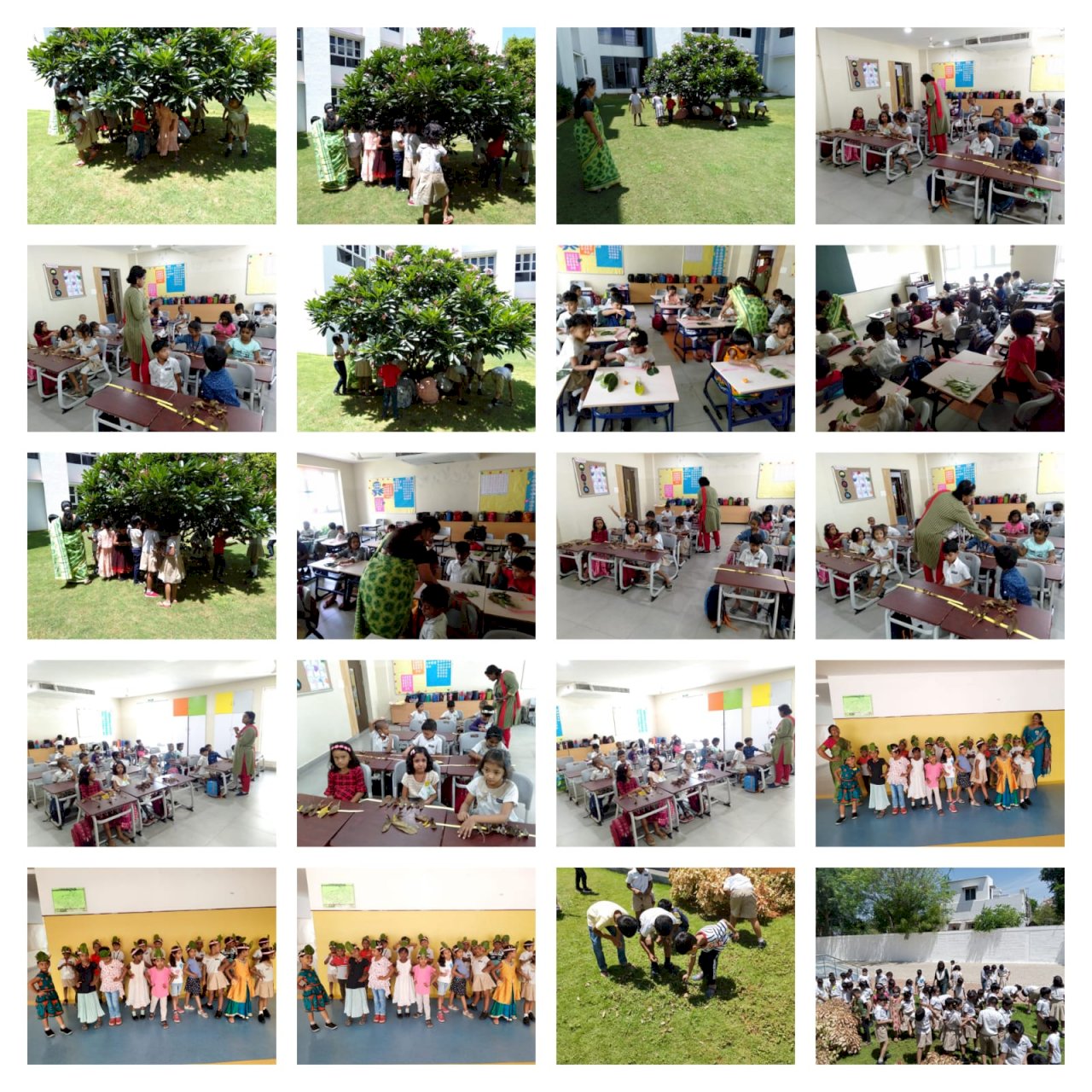 06/27/2022 10:30:08 AM
Grade 1 & 2 "welcome back to school". Kids enjoyed seeing their buddies and teachers and had a lot of fun on their first day of school. Teachers welcomed the kids wearing different and colourful attires based on our themes of the year. They dressed as kashmiri, Tribes, Mountaineer and a few teachers were in fish headbands on their heads to welcome the kids. Kids loved the "Fortune Balloon" activity and amazed on the first day.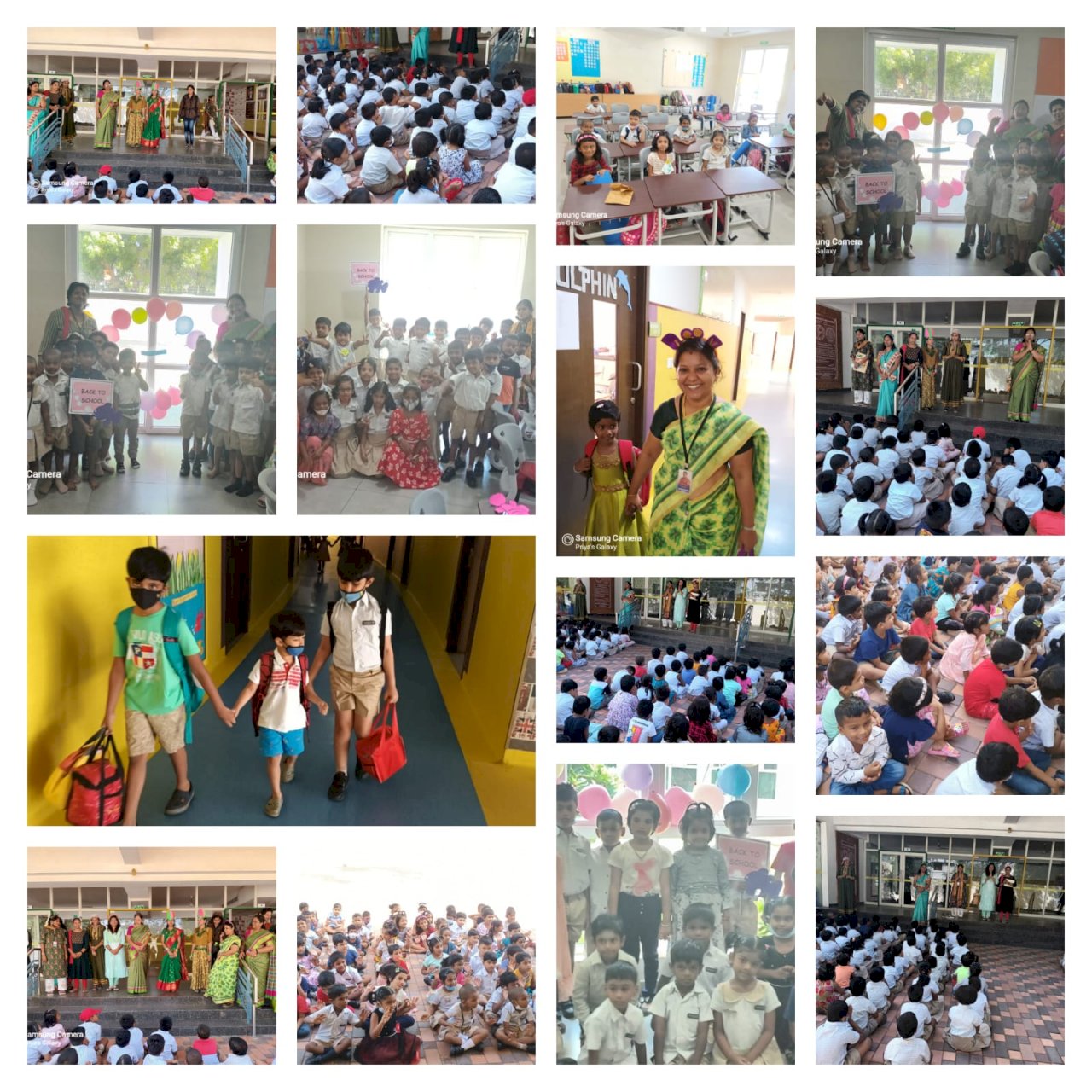 06/24/2022 03:19:37 PM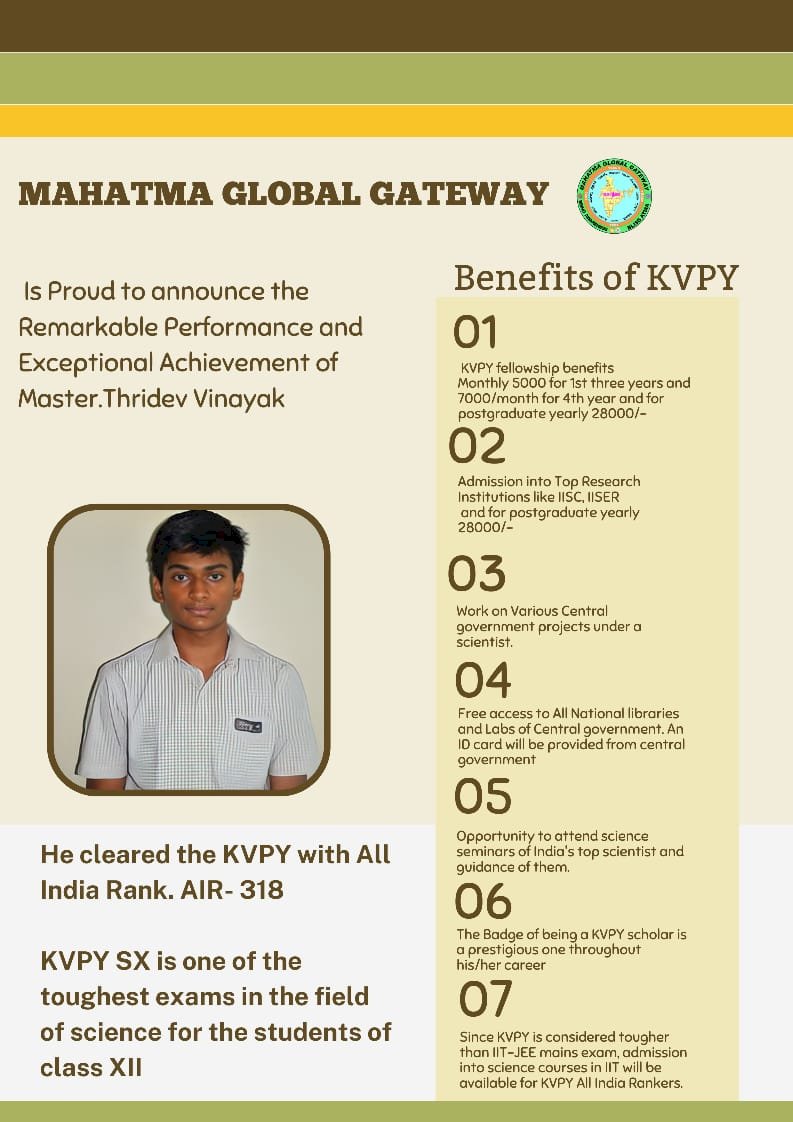 06/24/2022 10:35:21 AM
Grade III to V Dear Parents, Greetings! "Don't judge each day by the harvest you reap, but by the seeds that you plant". Robert Louis Stevenson Children were highly excited to sow the seeds and they are waiting for the yield.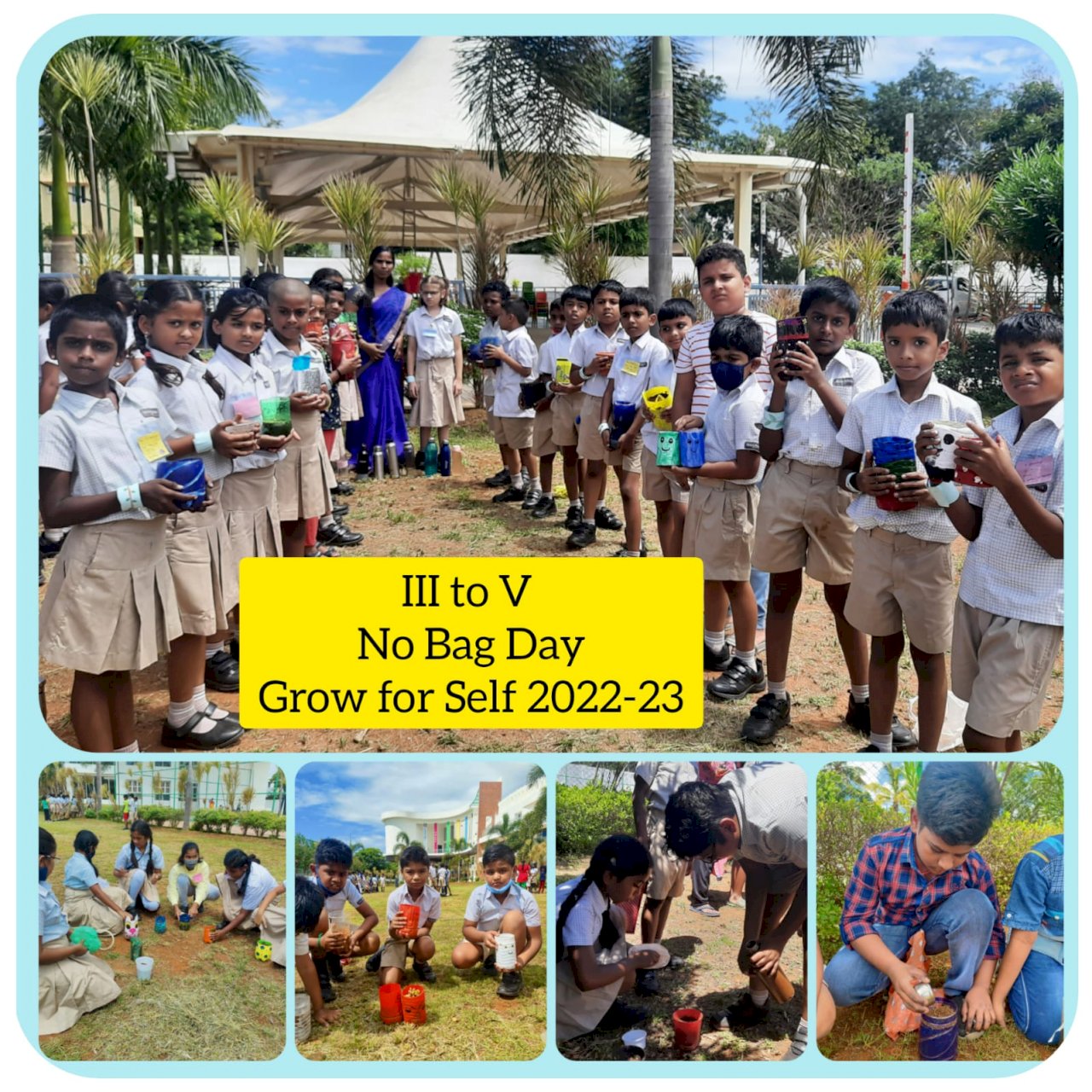 06/24/2022 10:34:51 AM
Grade III to V Dear Parents, We celebrate and applaud the exuberant spirit to emerge as a winner in the Shakespeare Talent competition. State-level I Prize - Mithula S - Grade IV 'D State-level II Prize - Annie Meghana Prassana - Grade IV 'B State-level III Prize - Krishan K - Grade IV 'B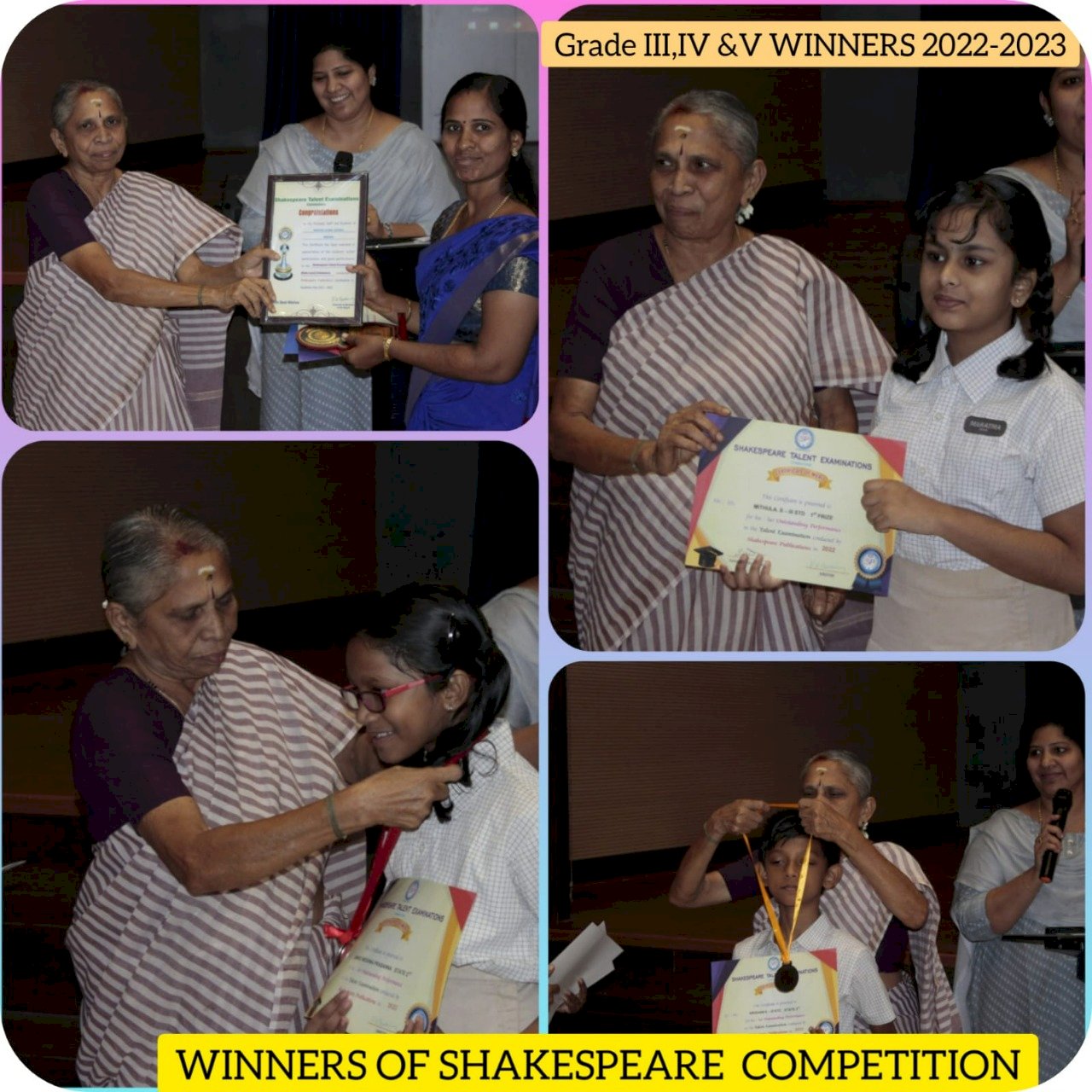 06/23/2022 11:03:48 AM
Grade III to V Dear Parents, As International Olympic Day and UN Public Service Day are observed globally, Grade 3, 4 and 5 assemblies honoured the day with informative and motivational speeches. Applause to A.V. Aaradhana of Grade IV-C for gaining the first position in the All India Karate Championship.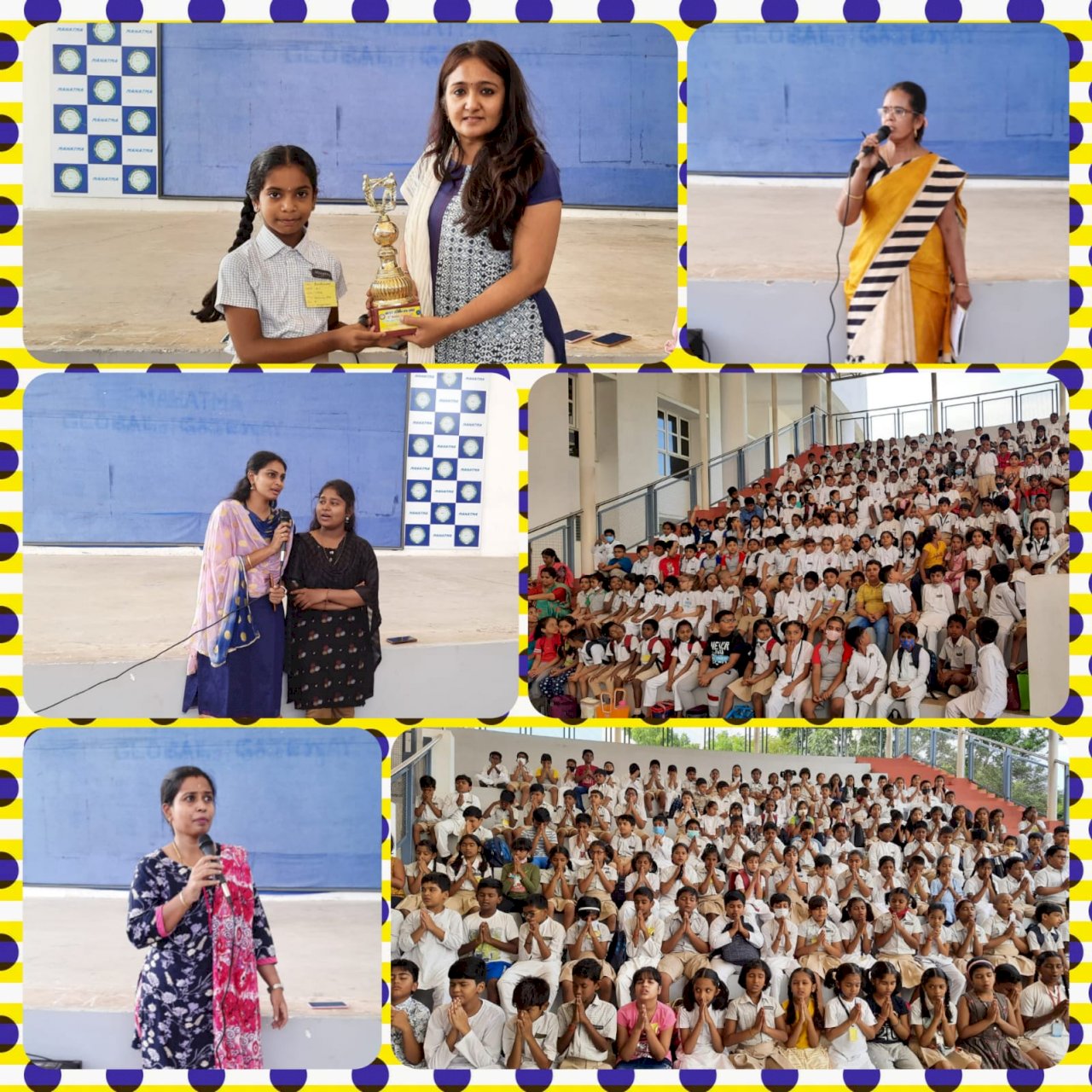 06/22/2022 05:30:51 AM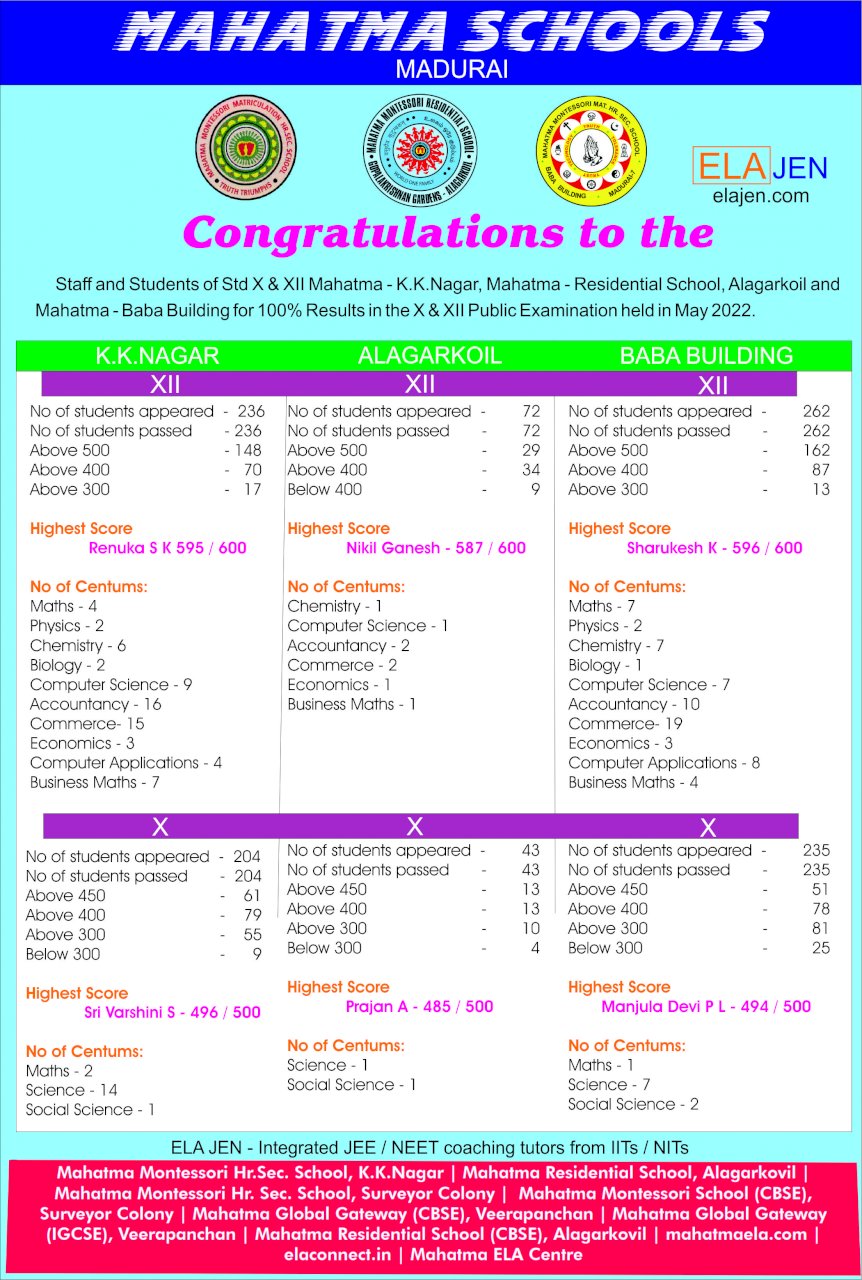 06/21/2022 10:10:57 AM
Grade III to V Dear Parents, Greetings! On commemorating International Yoga Day, students of Grade 3, 4 and 5 performed mass yoga on the school ground. Thank you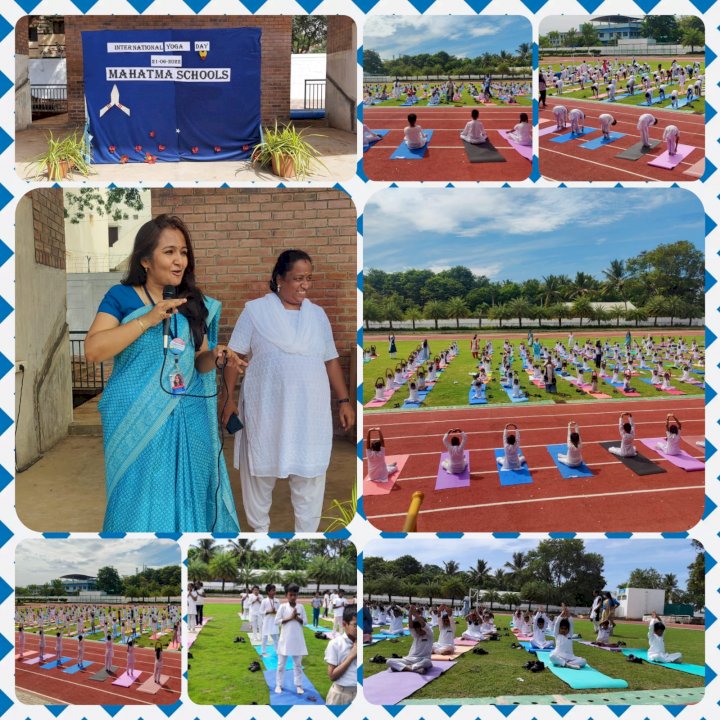 06/21/2022 10:09:49 AM
Grade III to V Special Teachers' Assembly Presentation on the reopening day focusing on the Environmental day and Refugee day. Kudos to Krithik vel (Class V) and Sai Vasika (Class III) for being a part of the Global Book of World Records in Yoga. Thank you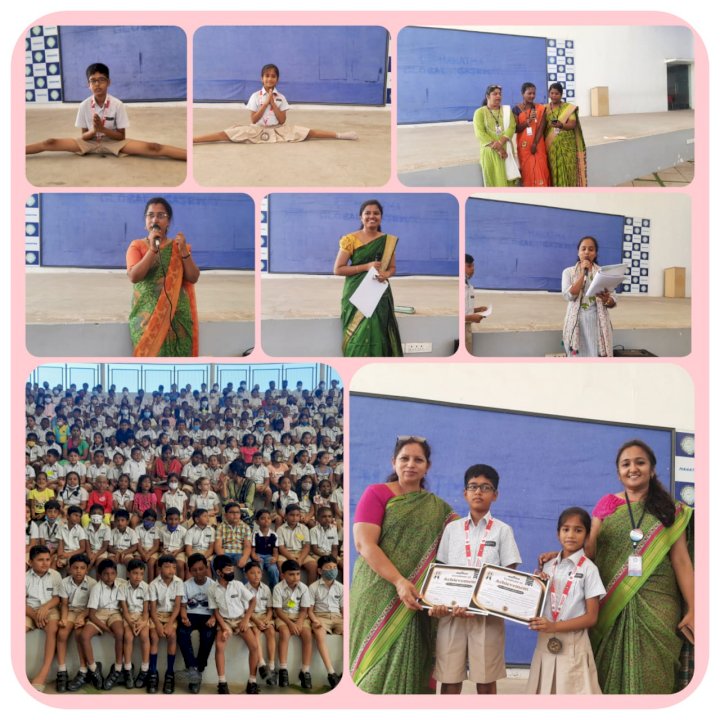 05/10/2022 10:51:55 AM
Chithirai Festival Take a look at 1st and 2nd graders enjoying the "Chithirai festival". Children dressed in traditional attire and brought traditional drinks, candies and traditional food to the event. Few kids dressed up as Alagar, Meenatchi and Karuppanaswamy. They came for the procession around the school like how Kallazhar comes for the procession around Madurai. The children spent the day dancing, singing and sampling traditional food with their pals. They learned about the history of the chithirai festival. The kids were ecstatic to see their pals dressed up as gods and to be a part of it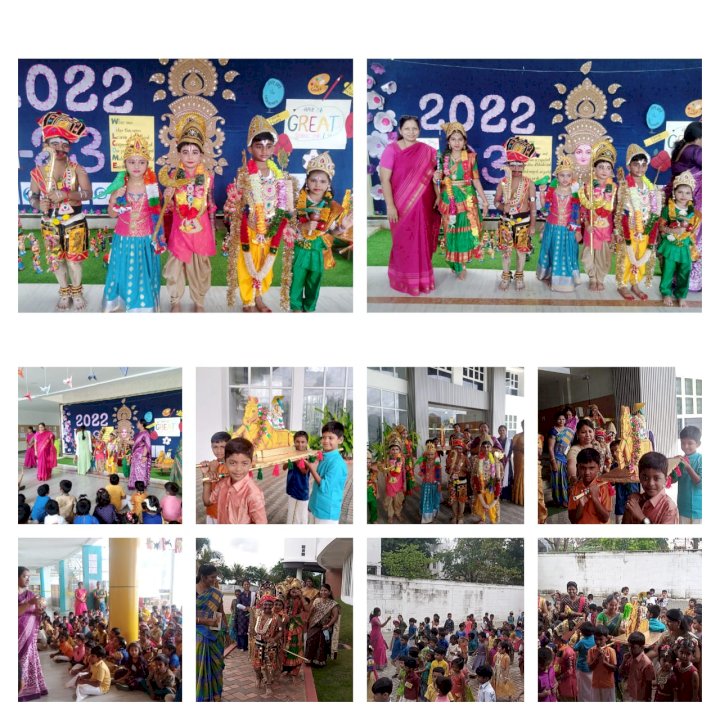 05/10/2022 10:51:44 AM
Popcorn Time A peek into Grade 1&2 Popcorn time on April 8th 2022. Children had a lot of fun watching the movie "Finding Nemo".They laughed, shared snacks and socialized nicely on the way to and from the movie. The kids have taken wholesome messages to home like complying with parents, being kind and amicable.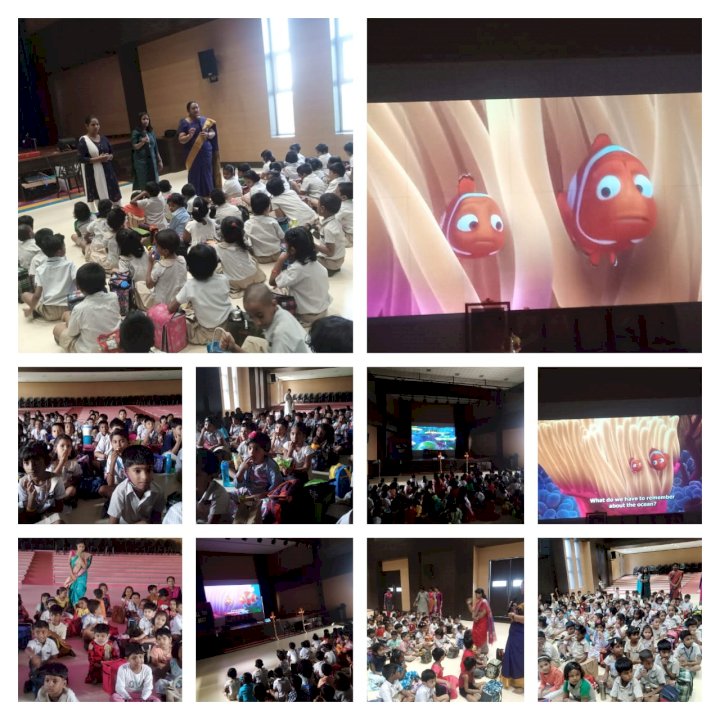 05/10/2022 10:51:37 AM
Umbrella Activity. Take a look at grade 1's finger to portray fish and grade 2's sponge painting on the umbrella. Children had a messy painting, yeah! it's messy, however they cherished it and had a FUN!! Teachers could see their innovative and imaginary abilities. They all stay focused on the entire procedure and learned to concentrate on their work.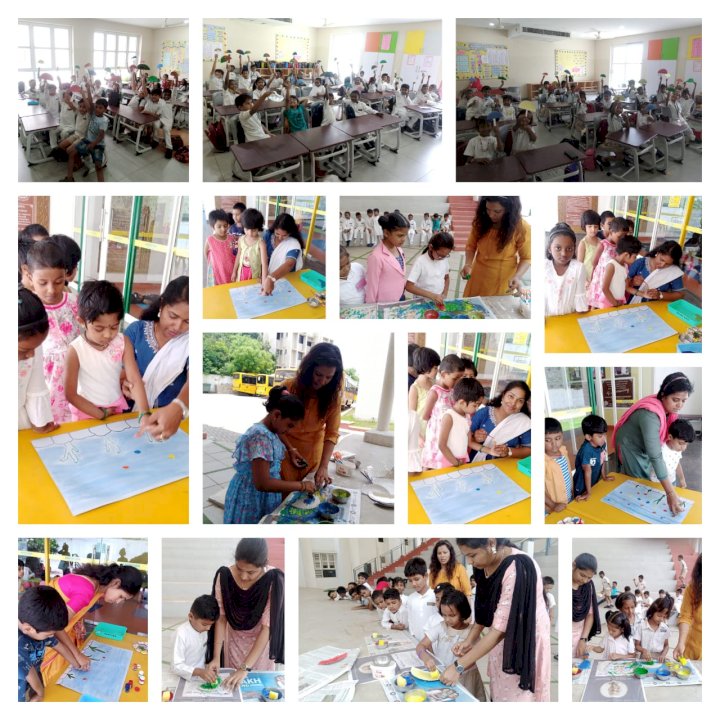 04/28/2022 05:14:15 AM